KowCast Ep 32 – Shop Talk: Secret Empire vs Metal vs Legacy and Convention Dealer Update
KowCast Ep 32 – Shop Talk: Secret Empire vs Metal vs Legacy and Convention Dealer Update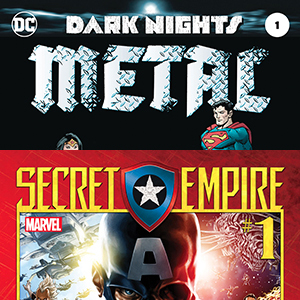 Eric and James return with a new episode to talk about reception of Secret Empire, Metal, and Legacy. Which books are selling well in the shop, why is it, and what do we have to look forward to? Additionally, we have received some questions about what we take to local comic shows, and how the whole dealer/vendor thing works. Join us, as we break down some of the pieces to how we attend shows, what type of stock we carry, and a few tricks for prepping and dealing!
If you have thoughts or questions about what we discussed, join in the discussion by sending us an email to podcast@kowabungacomics.com or registering for our new forums at forums.kowabungacomics.com. You can follow us on Facebook at www.facebook.com/incredicow, on Twitter @Incredicow, Instagram @kowabungacomics or on the web at www.kowabungacomics.com.
Music provided byNight Runner (http://nightrunnermusic.bandcamp.com/).
Podcast: Play in new window | Download
Subscribe: Apple Podcasts | Android | RSS