KowCast Ep 21 Shop Talk! – Marvel / Retailer Initial Reaction
KowCast Ep 21 Shop Talk! – Marvel / Retailer Initial Reaction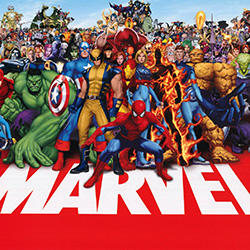 In this episode, James and Eric take a dip into the Marvel Retailer Summit discussions as reported on by ICV2, Newsarama, BleedingCool, and more. Hear our take on some of the comments from retailers, our thoughts on Marvel's responses, and overall market considerations we take in to account.
If you have thoughts or questions about what we discussed, join in the discussion by sending us an email to podcast@kowabungacomics.com or registering for our new forums at forums.kowabungacomics.com. You can follow us on Facebook at www.facebook.com/incredicow, on Twitter @Incredicow, Instagram @kowabungacomics or on the web at www.kowabungacomics.com.
Music provided byNight Runner (http://nightrunnermusic.bandcamp.com/).
Podcast: Play in new window | Download
Subscribe: Apple Podcasts | Android | RSS