KowCast Ep. 12 – JLA/Avengers Back Issue Spotlight feat. John Mayo
KowCast Ep. 12 – JLA/Avengers Back Issue Spotlight feat. John Mayo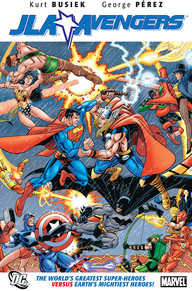 Listen in as Eric and James have a fun and spoiler filled back issue spotlight discussion on JLA/Avengers by Kurt Busiek (w), George Perez (p/i), and Tom Smith (c) with John Mayo, host of the Comic Book Page Podcast. Follow along as James and John put on a master class in DC and Marvel history, while first time reader Eric attempts to keep up!
Join in the discussion by sending us an email to podcast@kowabungacomics.com. You can follow us on Facebook @ www.facebook.com/incredicow, on Twitter @Incredicow or on the web at www.kowabungacomics.com.
Music provided by Night Runner (http://nightrunnermusic.bandcamp.com/).
Podcast: Play in new window | Download
Subscribe: Apple Podcasts | RSS